Hi! Today I am linking up with Jaime at Polka Dots on Parade!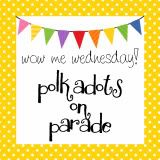 Let it be known: I love Mexican food. However, going out and eating bowl after bowl of chips and salsa is not conducive to the waist line. So, sometimes you have to lock it up. But, this recipe? It doesn't even make you feel like you have to lock it up because it's so delicious!
So, here are the Black Bean Tostadas that are a totally healthy/easy/quick Mexican option and a definite go-to in this household.
Here's the recipe:
1 Tablespoon Vegetable Oil
2 cloves garlic
1/4 teaspoon kosher salt
2 teaspoons Mexican Hot Sauce
1 teaspoon hot chili powder
2 cups black beans
1/4 cup sour cream
1/4 teaspoon ground cumin
1/4 teaspoon kosher salt
1 lime, zested
4 corn tortillas
3 ounces queso fresco
Salsa
Here are your steps:
1.
Mince 2 cloves of
garlic
. In a sauce pan, heat 1 tablespoon of
vegetable oil
over medium heat. Add the garlic and cook for about 45 seconds until lightly browned. Add 2 cups of
black beans
, 1/4 teaspoon
kosher salt
, 2 teaspoons
hot sauce
(to taste), and 1 teaspoon
chili powder
. Heat until the beans are hot and then cover and keep warm.
2.
In a bowl, whisk together 1/4 cup
sour cream
, 1/4 teaspoon
cumin
, 1/4 teaspoon
kosher salt
, and about 1/2 of the zest of 1
lime (I actually skipped this step and just added a little sour cream to the top of our Tostadas).
3. The recipe calls to grill your tortillas, however, we don't have a grill right now, so I put them in a pan on medium-high heat for 1-2 minutes on each side until they were lightly toasted.
4. Make your tostada! On top of each tortilla place a pile of the black beans, some salsa, sour cream, and a bit of queso fresco. Enjoy!
The Recipe was adapted from
A Couple Cooks
.